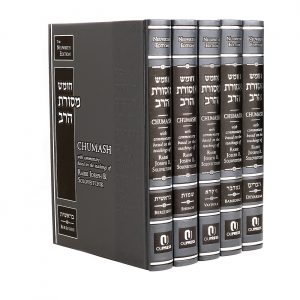 Enter to win the complete box set of Chumash Mesoras HaRav: The Neuwirth Edition from OU Press.
Complete with the Hebrew text with vocalization and cantillation signs, an English translation of the Torah text, Rashi's commentary, and an eloquent and original Torah commentary, the Chumash Mesoras HaRav is perfect for synagogue, home, and school use. In addition, Chumash Mesoras HaRav features introductions by Rabbi Menachem Genack and Dr. Arnold Lustiger, editor of the series.
Contest ends 12/6/18 at 11:59 am. Three winners will be chosen at random and notified via email.
Enter your information below: