The Wintman Family and the Rav: A Very Special Relationship
by Kenny Wintman and Sandy Welkes
Our father met the Rav in 1941. Our father was involved in the activities of the Boston Jewish community but was not especially observant at the time. Despite this, he and the Rav developed a warm relationship. Their friendship endured for nearly five decades, as our father drove the Rav to all his appointments around Boston, and to and from the train station or the airport for his weekly trips to New York. After the Rav's beloved wife passed away in 1967, my father drove him to the cemetery each and every Friday. The Rav never got out of our father's car in 45 years without saying thank you.
As our father was not a student of Jewish texts, their relationship was not that of a rebbe and a talmid; rather, it was based on mutual respect and friendship. Our parents did consult the Soloveitchiks on matters of Jewish observance, but they also enjoyed each other's company. Additionally, our parents attended the Rav's weekly Motzaei Shabbos shiurim.
One incident in particular that impressed our parents took place before one Pesach in the 1940s. The Rav asked our father if he was free for a few hours and our father readily agreed. The Rav had procured boxes of matza and, together with our father, delivered them to various Boston Public Schools, to provide the Jewish students with Kosher for Passover snacks during Chol Hamoed. This deepened their respect for the Rav and his care for every Jewish neshama.
The Rav, like our family, for many years spent his summers in Onset, Massachusetts. It was there, in the mid-1960s, that the Rav decided to spend most of Tisha B'Av explaining the Kinos. Before that, most people just mumbled the Kinos and did not understand what they were saying; the Rav transformed it into a deeply meaningful experience.
One memory from Onset: After our father would make Havdalah on Motzaei Shabbos, he went to a local store to pick up the newspapers that were reserved for the Rav and us. The Rav, however, kept Shabbos for longer than everyone else. If our father went to the Rav too quickly, the Rav would be upset because he was still keeping Shabbos and could not pay him back until Sunday morning. Our father started going a little later so the Rav would be able to pay him that night and not be upset.
Of course, children have a way of cementing relationships between adults. The Rav was mesader kiddushin at Sandy's wedding despite his failing health. Kenny became one of the many students who attended personally to the Rav's needs while he attended Yeshiva University. While others served in the position out of a sense of respect for the Rav, Kenny did it naturally as a close family friend, and the Rav truly appreciated it. He escorted the Rav to shiur and accompanied him to numerous other events. Once, after Kenny had graduated, the Rav even called him in Boston and asked him to fly to New York to escort the Rav personally to a particularly important talk he was giving.
This caring was not one-directional. On one instance, when Kenny was sick in his dormitory, the Rav called him each day to check on him. That Thursday, before the Rav flew back to Boston, he came in person to Kenny's dorm room so that he could truthfully report to our father that he had checked on him.
The relationship between the Soloveitchiks and the Wintmans, based on deep mutual respect and genuine friendship, lasted close to fifty years.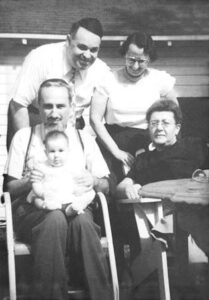 The Wintmans and Soloveitchiks – July 1951, Onset, Mass. (Soloveitchik Summer Home)