Excerpted from Rabbi Norman Lamm's Derashot Ledorot: A Commentary for the Ages — Genesis, co-published by OU Press, Maggid Books, and YU Press; edited by Stuart W. Halpern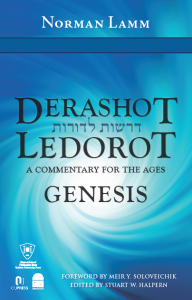 Parashat Bereshit teaches us one of the most fundamental concepts of our faith. It is something we speak of often, and that is perhaps why we frequently fail to appreciate its depth and the magnitude of its influence. The concept of man's creation betzelem Elohim, in the image of God, is one of the most sublime ideas that man possesses, and is decisive in the Jewish concept of man.
What does it mean when we say that man was created in the image of God? Varying interpretations have been offered, each reflecting the general ideological orientation of the interpreter.
The philosophers of Judaism, the fathers of our rationalist tradition, maintain that the image of God is expressed, in man, by his intellect. Thus, Sa'adia Gaon and Maimonides maintain that sekhel, reason, which separates man from animal, is the element of uniqueness that is in essence a divine quality. The intellectual function is thus what characterizes man as tzelem Elohim.
However, the ethical tradition of Judaism does not agree with that interpretation. Thus, Rabbi Moshe Chaim Luzzatto, in his Mesilat Yesharim, does not accept reason as the essence of the divine image. A man can, by exercise of his intellect, know what is good – but fail to act upon it. Also, the restriction of tzelem Elohim to reason means that only geniuses can truly qualify as being created in the image of God. Hence, Luzzatto offers an alternative and perhaps more profound definition. The tzelem Elohim in which man was created is that of ratzon – the freedom of will. The fact that man has a choice – between good and evil, between right and wrong, between obedience and disobedience of God – is what expresses the image of God in which he was born. An animal has no freedom to act; a man does. That ethical freedom makes man unique in the creation.
But how does the freedom of the human will express itself? A man does not assert his freedom by merely saying "yes" to all that is presented to him. Each of us finds himself born into a society which is far from perfect. We are all born with a set of animal drives, instincts, and intuitions. If we merely nod our heads in assent to all those forces which seem more powerful than us, then we are merely being passive, plastic, and devoid of personality. We are then not being free, and we are not executing our divine right of choice. Freedom, the image of God, is expressed in the word "no." When we negate that which is indecent, evil, ungodly; when we have the courage, the power, and the might to rise and announce with resolve that we shall not submit to the pressures to conform to that which is cheap, that which is evil, that which is indecent and immoral – then we are being free men and responding to the inner divine image in which we are created.
The late Rabbi Aaron Levine, the renowned Reszher Rav, interpreted, in this manner, the famous verse from Ecclesiastes (3:19) which we recite every morning as part of our preliminary prayers. Solomon tells us, "Umotar ha'adam min habehema ayin," which is usually translated as, "And the preeminence of man over beast is naught." Rabbi Levine, however, prefers to give the verse an interpretation other than the pessimistic, gloomy apparent meaning. He says: "And the preeminence of man over beast is – ayin, 'no.'" What is it that gives man his distinction? What is it that makes man different from the rest of creation, superior to the rest of the natural world? It is his capacity to say ayin, his capacity to face the world and announce that he will not submit to it, that he will accept the challenge and respond "no". An animal has no choice – no freedom – and therefore must say "yes" to his drives, to the world in which he lives. But a human being can say "no" to that which is unseemly and beneath his dignity. And when he says "no" to all that is ungodly, he is being Godly. He is showing that he was created in the image of God.
Adam and Eve had to learn this lesson, and their descendants forever after must learn from their failure. We are nowhere told in the Torah that the fruit of the Tree of Knowledge was in any way different from the fruit of the other trees in the Garden of Eden. Yet when she was tempted by the serpent, Eve looked at the fruit, and in her mind's eye its attractiveness grew out of all proportion to reality. It looked more luscious, it looked more juicy, it looked more appetizing. She even imagined that this was some kind of "intelligence food." Her instinct bade her to do that which was in violation of the divine command. But counter to this she had the capacity, as a free agent created in God's image, to say ayin, to say "no" to her instinct and her temptation. But she forfeited her opportunity. The first human couple did not know how to say "no." This was the beginning of their downfall.
Abraham was a great Jew – the first Jew. Yet in our tradition he is not famous so much for saying "yes" as he is for saying "no." Abraham was the great iconoclast. It was he who said "no" to the idolatries of his day, who said "no" to his father's paganism, who was the one man pitted against the entire world, shouting "no!" to all the obscenities of his contemporary civilization.
Moses was a great teacher. He gave us 613 commandments. When you investigate the commandments, you find that only 248 are positive – commanding us what to do. But 365 of them are negative – they say "no" to our wills and our wishes. For when we learn to say "no," we are being free men and women under God. The famous Ten Commandments have only three positive laws; the other seven are negative. Indeed, it is only through these negatives that we can live and survive and thrive at all. Without "You shall not murder," there can be no society. Without "You shall not steal," there can be no normal conduct of commerce and business. Without "You shall not commit adultery," there can be no normal family life. Without "You shall not covet," the human personality must degenerate and man becomes nothing more than an animal, a beast.
"And the preeminence of man over beast is ayin" – it is this which gives man greater dignity and superiority over the animal – his power to say "no." It is this freedom of the human personality taught by our Jewish tradition that we Jews must reassert once again in our own day.
The author Herman Wouk told me some time ago that a number of years earlier he was boarding a ship to go on a trip overseas. Several hours after he boarded, a cabin boy brought him a note from the apostate Jewish author Shalom Asch, asking Wouk to come to his cabin. There Asch complained to him and said, "I don't understand you, Mr. Wouk. You are a young man – yet you are observant and Orthodox. When my generation of writers was young, we were rebels, we were dissenters. We rejected tradition, we rejected authority, we rejected the opinions of the past. What happened to you? Why do you conform so blandly?" Wouk gave the older man an answer that I believe is very important for all of us to know. He answered, "You are making a terrible mistake, Mr. Asch. You seem to forget that the world we live in is not a paradise of Jewishness. You seem to forget that the world we occupy has become corrupted, assimilated, emptied of all Jewish content. In a world of this sort, one does not have to be a rebel at all in order to ignore the high standards of Judaism. If you violate the Sabbath, if you eat like a pagan, if you submit to the cheap standards of morality of the society in which we live, then you are being a conformist; you are merely allowing your own animal instincts to get the better of you. Today, if I and some of my contemporaries are observing the Jewish tradition, then it is because we are the dissenters, the nein-sagers. For we are the ones who say 'no' to the desecration of the Sabbath, 'no' to the creeping assimilation that ridicules all of Judaism and threatens its very life, 'no' to all the forces that seek to degrade our people and diminish the uniqueness of Israel that is its dignity and its preeminence. You are the conformist."
This is the kind of force, the kind of courage, the kind of conviction that has sustained us throughout the ages. It is that which has given us the power to say "no" to the threats of Haman, the cruelties of Chmielnicki, the genocide of Hitler, as well as the sugarcoated missionizing of more enlightened enemies of Judaism. We demonstrated the image of God when we exercised our freedom and said "no" to all this.
I am not suggesting that we ought to be destructively negative. It is, rather, that when we fully exercise our critical functions and faculties, then the good will come to the fore of itself. It is because I have confidence in the innate powers of the good that I suggest we concentrate on denying evil. "Depart from evil and do good" (Psalms 34:15). If you put all your energies into negating evil, then good will be done of its own accord.
It is this power to say "no" that we must exercise in our relations with our fellow Jews in the State of Israel. For, in addition to all our constructive efforts on behalf of the upbuilding of the land, we must also be able to call a halt to the creeping paganism that plagues it.
When we find that in our own Orthodox community in Israel certain things are done which serve only to desecrate the name of God, we must not be shy. We must rise and as one say "no" to all those forces which would compromise the sanctity of the Torah and the sanctity of the Holy Land.
In our own American Jewish community, we must, here too, be the critics. And when, to mention just a seemingly trivial matter, certain artists and entertainers who are Jewish, and who rely upon the community as such for acceptance of what they have to offer, elect to entertain on Yom Kippur, the holiest day of the year, we must say "no." We must realize that it is no longer the domain of one's own conscience, when the matter is a public demonstration of contempt for American Jewry. "And the preeminence of man over beast is ayin" – we must not sheepishly go along with everything that "famous people" are willing to tell us. We must be men, we must be human beings, we must use the freedom that God gave us when He created us in His image, and learn when to say "no."
I conclude with the statement by one of the greatest teachers of Judaism, a man who indeed showed, in his life, that he knew the value of "no." It was Rabbi Akiba, the man who was able to stand up to the wrath and the might of the whole Roman Empire and say "no" to tyranny and to despotism, who taught us, "Beloved is man that he was created in the image of God" (Avot 3:18). Beloved indeed, and precious and unique and irreplaceable is man when he has the freedom of will that is granted to him by his Creator. And furthermore, "Hiba yeteira noda'at lo shenivra betzelem" – a special love was given to man by God, it is a special gift when man not only has that freedom but when he knows that he has that freedom – and therefore uses it to combat evil and to allow the great, constructive forces of good, innate in himself, to come to the fore so as to make this a better world for all mankind.